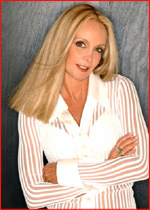 Nancy Spears is the author of a new book that offers profound ways to integrate value-based leadership into Corporate America, Buddha: 9 to 5: The Eightfold Path to Enlightening Your Workplace and Improving Your Bottom Line. Founder and CEO of a national marketing and production agency with offices in seven cities coast to coast, Nancy's marketing expertise includes providing strategic marketing communications counsel and services to Fortune 500 companies who value quality of thinking, execution, and service.
Nancy sold the company she founded, Creative Event Marketing, Inc., to Interpublic Group in June 2000. CEM was renamed CrossMedia as a division of Golin/Harris International. As Executive Vice President of CrossMedia, Nancy managed the group that provided integrated communication solutions to its clients.
Her wide-ranging experience includes marketing, strategic planning, branding, meeting and event design and production, collateral design, audio/video production, speech writing and promotions for numerous Fortune 500 companies including Eli Lilly and Company, Glaxo Wellcome Pharmaceuticals, MasterCard, Johnson & Johnson, Turner/Time Warner, Xerox, Toyota, Nike, AT&T, and AIG.
During the 2002 winter Olympic Games, Nancy and her team designed and produced programs for Coca-Cola, John Hancock, Lucent Technologies, Descente, and Nextel. For the 1996 summer Olympic Games in Atlanta, Georgia, Nancy developed and oversaw the production of over 57 events and projects in 17 days for many top sponsors including Xerox, AT&T, Lucent Technologies, Swatch, Sara Lee, and Texaco.
In 2002 Nancy co-founded Devi Development, Inc., a development company dedicated to creating enlightened environments for sustainability. The firm integrates spiritual elements and green construction into their healthy house design and construction process.
At this stage in her career, giving back to the world to help make an impact is Nancy's number one priority. To that end, she serves on the boards of the Shambhala Mountain Center, the Children's Health Foundation, and the Aspen Center for Integral Health.
Nancy holds a B.A. in journalism with a major in public relations from West Virginia University. She and her eight-year-old twins, Clark and Gwyneth, reside in Aspen, Colorado.